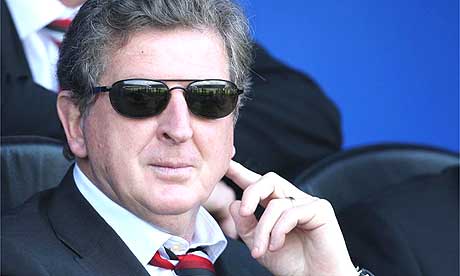 Well - it's getting ever closer. The impossible dream of qualifying for Europe through the league, after staying up on goal difference last year, is within Fulham's grasp. This, in the end, routine win against one of the division's high flyers has placed the Cottagers in seventh place and four points from the final two games (away at Newcastle, home against Everton) will see the team qualify for the rebranded UEFA Cup next year. Astonishing.
And it's all really down to one man. Roy Hodgson. Many of the changes he has made have been imperceptible and it wouldn't be too controversial to say that his two big signings - Bobby Zamora and Andy Johnson - have been disappointing. But Hodgson's is a team work ethic and without those two defending from the front, who knows what might have happened this year? It appears that Hodgson has made many of his improvements to Fulham's game on the training ground, which is a most gratifying way of achieving success.
Fortunately the Fulham fans know which side their bread is buttered and this game was marked by a remarkable, spontaneous standing ovation for Hodgson at around the 75 minute mark, which saw most of the ground acknowledge the superhuman job this modest man has done since arriving in SW6.
The game itself was quite interesting. For the first 20 minutes or so, it was mainly Villa looking dangerous with Young Footballer of the Year Ashley Young making mincemeat of a bewildered John Paintsil a couple of times. Despite this, Diomansy Kamara was barged to the ground by Milner for a stonewall penalty (although it looked a bit softer on TV afterwards) and Danny Murphy stroked the ball home from the spot. Again.
Villa equalised, probably deservedly, when a Barry cross made it all the way across the box and Young tapped in at the far post after Zoltan Gera had failed to follow his run. It was a strange game for Gera - it seemed that whenever Fulham misplaced a pass it was him doing it, yet the people I was with were impressed at his game.
Anyway, after Young's goal, Villa's threat more or less melted away and Fulham became more comfortable on the ball. Paintsil, who had by this time already done completely unnecessary overhead kick and diving header clearances, had also started to get the measure of Young and would only grow in stature as the game went on.
Half time came so we went and got beers. Unfortunately we were nowhere near back in time to see Kamara's goal, coming as it did 25 seconds from the restart. I'd never missed a goal before and I was cursing the ban of alcohol in the stands. I did see it on the screens though and was impressed at the confident finish.
In fact, without the injured Johnson and Zamora, Kamara and Erik Nevland were making a nuisance of themselves up front. In fact Kamara's second goal, an inventive and cheeky flick through the legs from Brede Hangeland's header off a corner, brought both strikers up to three league goals for the season - more than Zamora who has played far more games. The fact that Bobby Z missed a one on one chance after coming on as sub kind of typified the unfortunate season that he has had.
The crowd was in good form, especially when making light of Chelsea's injury time expulsion from the Champion's League by Barcelona in midweek by singing 'There's only one Iniesta'. Villa's fan's were also really impressive, at least for the first half, after which they tailed away, somewhat reflecting their team's season.
* A strange thing about Saturday was that we had two people with us who a) had never been to a game before and b) knew next to nothing about football. Fortunately Colin was sat inbetween them to handle any queries. However they seemed to enjoy it. John's interest was piqued until the 60th minute as I had advised him to have a bet on a 2-2 draw. Meanwhile Margaux was just laughing at the reaction of everyone around her and taking lots of pictures. She couldn't see most of the action as she is only short and everyone standing up when it got exciting kinda blocked the view.