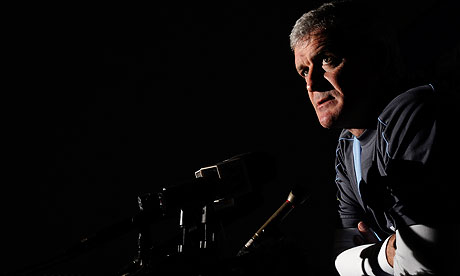 After a couple of false starts on recruiting a new manager (for which the club should be applauded for aiming high), The Guardian is reporting that Mark Hughes has agreed to take the reins. I've always been a fan of Hughes as a player although his Blackburn side was criticised for being somewhat agricultural. However he got Rovers, who are of a similar size to Fulham to three semi-finals and a sixth place in the Premier League. That kind of record should see him welcomed at the Cottage.
At City he was undone by expectation, although people seem to forget that City were in fourth spot when he got sacked. The nouveau riche club finished in fifth.
Possibly the worst thing about Hughes' appointment (aside from the fact he is actually a Chelsea fan) is the fact he is highly likely to bring Roque Santa Cruz and perhaps even Craig Bellamy with him. I have never really seen what people see in the Paraguayan, but he has already scored at the Cottage. As for Bellamy, for a long time I hated the whinging, aggressive, no-necked swine. However I actually built up some strange respect for him at City - he was their best player at the start of last season. But grudging respect is a far, far distance from being able to support him.
Still just over two weeks before the season starts, Hughes has a few key decisions to make about personnel, but already has a healthy base from which to start. It also suggests that the club's expectations should be towards the top half of the league rather than the bottom as feared when Hodgson upped sticks to Liverpool.