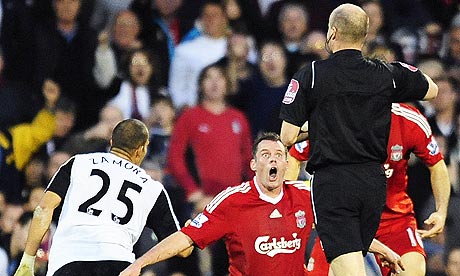 I had a good feeling about this game which was only enhanced when I reached the Cottage and saw the Liverpool team sheet. Reina, Degen, Kyrgiakos, Carragher, Insua, Lucas, Mascherano, Kuyt, Voronin, Benayoun & Torres. It wasn't as bad as the side that the Reds put out at Sunderland a couple of weeks ago, but it was damn poor for a Liverpool side and presented one of the best opportunities for a Fulham win. I was particularly pleased to see Johnson miss the cut as I was worried about his attacking prowess against Konchesky, who had managed to return from injury. Missing out though were AJ, Murphy and Etuhu (who was on the bench).
Given what I perceived as a paucity of talent on the Liverpool teamsheet, it was therefore disconcerting to see the visitors have almost all the play in the first half. It was almost as if the home team were showing Liverpool too much respect. One particular tactic employed by Benitez seemed to be to overload the flanks and there were frequently three Liverpool players looking menacing down the wings against just two Fulham players.
Then, out of nothing, Fulham score down the other end. A cross from Duff is tapped in at the far post by Bobby Zamora, who uses the situation to 'shush' his critics in the media for the tanning he has taken for the rather bad miss against Man City last weekend. Where did that come from? It was an outlier in the course of the first half which was all Liverpool, but without much menace. Benayoun had hit the bar with a good piece of skill, but Schwarzer barely had anything to do. All the Fulham fans were thinking 'let's hold on until half time' when the ball bounced up nicely for Torres on the edge of the box and he slammed the ball into the goal. It was practically the first time he hadn't fallen weakly to the grass looking for a free kick. A piece of outstanding skill, and frankly deserved, but it was so sudden it felt like getting shot.
It certainly put most of the Hammersmith End into a downer. I say most because where we were sat the atmosphere was far more flat than usual, leading me to assume that there were more Liverpool fans around us than there ought to be. In fact one cheeky sod sat in front of Jarrod stood up and celebrated the equaliser. He'd regret that by the end of the match though.
Second half and I thought that Roy had made two interesting tactical substitutions Duff/Kamara off, Gera/Nevland on. Turns out these were enforced through injury, but they did help turn the tide of the match. Rather than all Liverpool, it became end to end stuff. Torres, probably still carrying an injury, wasn't doing much and soon after knocking a cross field pass firmly into touch, Benitez pulled him off the pitch for Babel and thus neutered what little attacking threat his team carried.
Throughout the game though the referee, Lee Mason had erred on the side of reputation and given lots of little free kicks to the away side, but he really made a rod for his own back when turning down a very strong penalty appeal when Carragher bundled over Zamora in the area. That got the crowd on his back and heaped on the pressure.
The ball broke loose near the halfway line and the irrepressible Dirk Kuyt busted a gut to stop it going off for a throw-in. This just led to him keeping it in for Konchesky to run onto though and he powered into the box and whipped in a cross which Gera managed to nod back across the goal for Nevland to pull off a beautiful little backheel past the bewildered Reina. Game on!
Then it all got a bit weird. Degen lost the ball in Fulham's half and slid into Dempsey trying to retrieve it, wiping him out. It looked like a full blooded, but rash tackle. Suddenly the ref pulls out a red and he walks. Having since seen it back on the TV it is a harsh red, but in real time it felt like a justified decision. We were then preying that Fulham didn't mess things up from this position. However things got even better almost immediately.
I like Carragher as a person. He has got a sense of humour. However over the past few years he has lost what little pace he had and now relies on all the tricks in the book to stop people getting past him, which he has been fortunate to get away with (cf Michael Owen 'tackle' from last week). This time he didn't get away with yanking Man of the Match Bobby down (and 'getting the ball' afterwards) and suddenly he was walking as well. Pandemonium. Suddenly we could relax. Rafa's reaction to the sendings off was to take off his most experienced attackers in Kuyt and Benayoun and replace them with a rookie defender Ayala and a rookie forward called Ecclestone. He'd given up the game it seemed and when Dempsey walked the ball in the net from a Nevland 1-2 that was it. A hilarious and eventually deserved win which echoed last year's victory against Man United. More of this please.
Attending: Me, Ish & Jarrod.