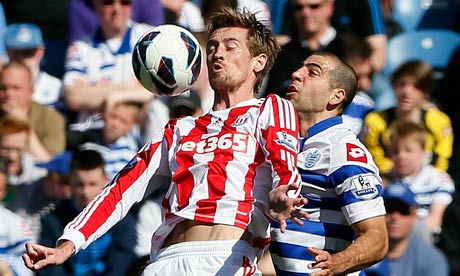 A week or so ago, I felt compelled to write to the Premier League with a bit of a whinge. I tried watching the QPR v Stoke City game on Match of the Day and found it very difficult to differentiate between the two strips from the distance of the TV camera gantry.
As a still picture, it is obviously easier to differentiate between red and white stripes and blue and white hoops, but in motion it really isn't so simple. Check it
here
.
This happens surprisingly often. The week before, the black and white stripes of Newcastle United met the red and white stripes of local rivals Sunderland which was again
painful to watch
. In the return match earlier this season, Newcastle felt compelled to wear their away kit, so why didn't Sunderland for the exact same clash? Sunderland wore their stripes away from home against West Brom, Wigan (although Wigan's kit is predominantly blue with two white stripes on the front), QPR and Reading. Most of these, while irritating, were not an insurmountable problem for watching on TV. But when the two opposing teams are ALSO wearing the same colour shorts, then things get a bit silly. Certainly for me it makes it almost impossible to follow the match. There's no need for it.
What I don't understand is the rule that the Premier League has sent to me regarding shorts.
Where the colour of the shorts worn by two teams is identical, the Rules currently give the away team the choice of either changing to a different colour or keeping the same colour.




This Rule has been existence since the Premier League began in 1992 when it was felt that it was important to supporters that they were able to see their team play in their traditional colours as often as possible.
Why is it so important to allow supporters to see their team play in traditional coloured shorts? In the early 90s I remember Man United playing in black shorts almost as often as white. Didn't make any difference to me. And gave the Red Devils another merchandise line. Given the PL makes more money from TV than attending fans, you would have though that a simple rule to stop shorts clashing (why is it clashing? two identical colours can't clash - you actually want a clash) would solve a problem. If you really want to do something for the fans PL, why not more 3pm kick offs please?