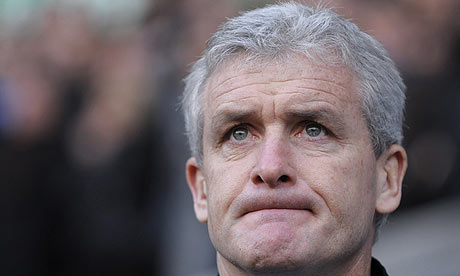 Well Sparky's up and left and apparently with nowhere to go. I'm not quite sure what that says about the situation at Fulham, but it's not as if Hughes stamped his mark on this team in the limited time he was at Craven Cottage. Much like the current Chelsea team was forged by Mourinho, everything good that comes from the current Fulham team still has the Hodgson stamp on it. Dembele has been a good signing, but arguably the team plays better when he's not on the pitch, and Sidwell has been a positive influence, but Hughes originally stopped his transfer at the start of the season before returning to Villa in January.
The Fulham fans never really warned to Hughes as they thought he was using the team as a stop-gap and that now appears to have been true. To be honest I was slightly worried from the start with Al Fayed's bizarre press conference appearing quite demeaning to Hughes, who has a lot of pride.
But similarly there hasn't been any major managerial trees overturned in his time at the Cottage. He's never really done anything to make you think: that was a good idea - that's where the match turned. Strange. Having said that, he still managed to get the club into 8th in this funny old season.
So who's next up? Some wags are suggesting Ancelotti, but I thought he was a dead cert for the Roma job? Perhaps Claudio Ranieri fancies a return to London? As much as I dislike the man, Rafa Benitez is free and has a strong European pedigree. Steve McClaren and Martin O'Neill have also been linked - all solid managers who in the past might not have looked twice at this idyllic part of West London. Fulham attracted Hughes on the back of being Europa League finalists and need to appoint a manager of similar standing to retain that kudos - they don't need to be gambling on the relatively unproven Paul Lambert or perhaps even Danny Murphy just yet.