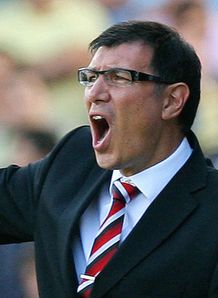 It is vitally important that Fulham get something out of tomorrow's game against Wigan or they could finish the weekend in the relegation zone with scant opportunity for picking up points in November. It's almost four years to the day since Wigan's only Premier League victory at Craven Cottage and if this feat is repeated then Fulham are in real danger of entering December in single figures for points - Even Sanchez managed 12 points by the first week of November.
The upcoming fixtures are:
Villa (H)
Chelsea (A)
Newcastle (A)
Man City (H)
Birmingham (H)
All tricky games where it is not unfeasible to see Fulham only coming away with a point out of a possible 15. That's why this game is so important to the club, the player's form and, more importantly, Mark Hughes.
Wigan are unbeaten away from home so far this season, although oddly have so far only played away three times as a result of Blackpool switching their early fixture around because Bloomfield Road wasn't ready. Wigan's three matches include a completely unexpected 1-0 win at White Hart Lane, a 2-2 draw at Newcastle where they let a 2 goal lead slip and a goalless draw at Birmingham. All mightily impressive results, especially considering the team started this season playing like my tips to be relegated (along with West Ham).
If anything this Roberto Martinez's team appears to have that extra sheen of class on previous Wigan sides, but this year the competition at the bottom of the table looks set to be closer than that at the top. Rodallega, Nzogbia and Gomez have all been among the goals this season and could easily be match winners against an injury depleted Fulham, who are without a win in seven games.
While Hughes has bemoaned recent 'offside' decisions against the team, the goals conceded against West Brom were indicative of a slightly shoddier defensive unit than in previous years - not helped by the whole first team midfield being injured. But there will always be excuses in football - it is time for Sparky to grasp the nettle and show some character. In doing so he might also win some of Fulham faithful onside, as many are still unsure what Hughes brings to the party - although it is fair to say they have been hugely impressed by his two signings of Dembele and Salcido.
Fulham are currently joint top of the Premier league injury chart (according to Physioroom) but the return of one long term absentee might turn the season around - Andy Johnson. In truth, Fulham fans aren't really expecting much from the little tyro given how long he has been out injured and it is fair to say that he hasn't really set Craven Cottage alight since his big money move, but he is just what Hughes needs at the moment for the structure of the team - an out and out striker. His presence would allow Dembele to slot in behind with support from the flanks in the shape of two from Dempsey/Gera/Davies and Kamara to do his impact substitute shtick. Hopefully Greening can play as he did against Spurs rather than on his old patch at West Brom and life will look a lot rosier again.