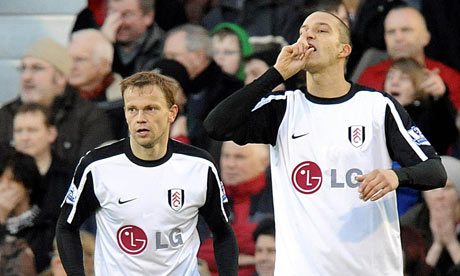 Unfortunately I missed this game, as I was back home in Manchester for my Christmas visit and as tends to be the case, if I'm not there then Ish & Jarrod aren't either. However I made sure I avoided all mention of the scores in order to watch the highlights fresh on MOTD2, so it was a pleasant surprise to see a solid Fulham edge out the Wearsiders with an early goal from the enigmatic Bobby Zamora.
My thoughts from the coverage of the game were that a) Nevland & Bent didn't have their shooting boots on, b) Konchesky was a wee bit shaky and c) why the hell is Zamora disrespecting the Hammersmith End in that way.
After several revisits of his 'celebration', it's probably true that he was referring to just one portly fan (with the burger eating mime before the invective) but how was the Hammy End meant to know this?
The last couple of games Bobby's played, the Hammy End has cheered him onto the pitch, something he has appreciated by clapping the fans as he runs on, so it's something he has to be careful about. He's got previous of course. His goal against West Brom last season saw him yelling at a fan in the front of the Hammy End (wonder if it's the same one) and the strike against Liverpool had him baiting the media who had widely derided him for his miss at Man City.
It seems that his 'shut the fuck up' celebration didn't register with those in the Hammy End at the time, possibly because he was down the other end of the pitch, but it's subsequent broadcasting has upset a lot of fans. Armchair fans? Possibly.
There are discussions that Bobby might need to feel slighted to perform well,
here
for example, but maybe it's one of the foibles that Fulham fans will have to take on the chin. It might be the idiosyncracy that makes the fans grow to love him - Angry Bobby Z - although he should choose his targets with more care.
Truth is he is making most of his arguments on the pitch this season. He is now more vital to the team than AJ. He's doubled his number of league goals already (okay that's pretty easy) and is currently scoring at a rate higher than his personal best in the top division. So while there may be some debate over his actual quality, the work rate and application cannot be faulted and would be revered at other clubs. There is also a passion which is strangely absent from most of his teammates.
One of the strange consequences of the incident is that suddenly Fulham are attracting a lot of column inches. That doesn't happen very often and and favourite bit of coverage has come from the guardian's
Fiver
:
To be fair to Bobby, he does ship a lot of abuse from a vocal minority in Craven Cottage's Hammersmith End who fail to appreciate the grunt work he puts in, running about a lot, holding up the ball as team-mates come into play, then passing it to the opposition.

Unfair but very funny. As for Hodgson's Zamora for England suggestion, I can't help wondering if this was a ploy to sidetrack the issue arising from his celebration, but the more I think about it, the more sense it appears to make. He will need a few timely injuries to players like Emile Heskey, Carlton Cole, Peter Crouch and probably Kevin Davies, but you could see how Zamora fits into the England set-up. Unlikely? Yes. Impossible? Nope. The injury he got meaning that he couldn't play a World Cup Qualifier for Trinidad in August may be a blessing in disguise.